Charmander is a fire pokemon His japanese name is "Hitokage ヒトカゲ". He evolve to Charmeleon at level 16 and charizard at level 36
Pokedex entry
| | |
| --- | --- |
| Ruby | The flame that burns at the tip of its tail is an indication of its emotions. The flame wavers when CHARMANDER is enjoying itself. If the POKéMON becomes enraged, the flame burns fiercely. |
| Sapphire | The flame that burns at the tip of its tail is an indication of its emotions. The flame wavers when CHARMANDER is enjoying itself. If the POKéMON becomes enraged, the flame burns fiercely. |
| Emerald | The flame that burns at the tip of its tail is an indication of its emotions. The flame wavers when CHARMANDER is happy, and blazes when it is enraged. |
| Fire red | From the time it is born, a flame burns at the tip of its tail. Its life would end if the flame were to go out. |
| Leaf green | It has a preference for hot things. When it rains, steam is said to spout from the tip of its tail. |
| Diamond | The fire on the tip of its tail is a measure of its life. If healthy, its tail burns intensely. |
| Pearl | The fire on the tip of its tail is a measure of its life. If healthy, its tail burns intensely. |
| Platinum | The fire on the tip of its tail is a measure of its life. If healthy, its tail burns intensely. |
| Heart gold | The flame on its tail shows the strength of its life force. If it is weak, the flame also burns weakly. |
| Soulsilver | The flame on its tail indicates CHARMANDER's life force. If it is healthy, the flame burns brightly. |
| Black | The fire on the tip of its tail is a measure of its life. If healthy, its tail burns intensely. |
| White | The fire on the tip of its tail is a measure of its life. If healthy, its tail burns intensely. |
| Black 2 | The fire on the tip of its tail is a measure of its life. If healthy, its tail burns intensely. |
| White 2 | The fire on the tip of its tail is a measure of its life. If healthy, its tail burns intensely. |
| X | The flame on its tail indicates Charmander's life force. If it's healthy, the flame burns brightly. |
| Y | From the time is born, a flame burns at the tip of its tail. Its life would end if the flame were to go out. |
| Omega ruby | The flame that burns at the tip of its tail is an indication of its emotions. The flame wavers when Charmander is enjoying itself. If the Pokémon becomes enraged, the flame burns fiercely. |
| Alpha sapphire | The flame that burns at the tip of its tail is an indication of its emotions. The flame wavers when Charmander is enjoying itself. If the Pokémon becomes enraged, the flame burns fiercely. |
Trivia
Niue released a one-dollar coin featuring Charmander as part of a commemorative promotion for the Pokémon franchise, with Charmander on one side and the nation's coat of arms on the other.
In the first generation, on its sprite and first artwork, Charmander's "back" is depicted as having a small line of spikes. The spikes were not shown in the sprites and artwork of latergenerations. Blue's Charmander also had these spikes in the Pokémon Adventures manga, where the spikes were larger and easier to see. The spikes were also seen on Green'sCharmander from the Pokémon Pocket Monsters manga.
Charmander is the tallest Fire-type starter Pokémon.
Charmander has the longest name of all unevolved starter Pokémon.
Charmander is the only Fire-type starter Pokémon that is not a member of the Field Egg Group.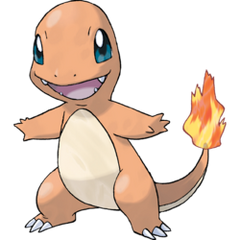 Origin
Charmander is inspired in salamanders